Is what I have, after my well meaning mother bought me about 2 lbs of my favorite chocolates: dark chocolate - covered marzipan, orange creams, and Italian creams for Valentine's day.. They're from my favorite chocolatier,
Aigner Chocolates
(formerly Krause's Candy Kitchen). All of their chocolate is made on the premises, and it's a family run business that's been around for ages... Yumm... That *whoosh* sound you might have just heard was my "diet" officially flying out the window..
Let me start off by thanking Melissa at
Perfectly Pink
, Mrs. P from
Chic
and the
CT Prep
for sending me some love and letting me know I am not alone out here in
Bloggerland
talking to myself! I read all of your great blogs, and finally was inspired to start one myself.. So thanks for the support!
Because of this wonderful weather we have been having in the northeast, I have been living in constant fear of developing what Perez Hilton likes to call "zombie hands". I get a weekly manicure, but I have been pretty
delinquent
moisturizing the rest of the time. Well, move over
Neutrogena
Norwegian Formula, the real best hand cream has just stepped up... and it's
Fresh's
Sugar Blossom Hand Treatment
from
Sephora
for $38. This has to be the best hand cream investment I have made. I've loved this for a while - in fact, whenever I would pass a
Sephora
, I used to go in, find this, use the tester, and leave..
teehee
.. But I finally bought it when my hands started getting dry, cracked, and bleeding - it is really light, non-greasy, and has this great lemony smell that is not overpowering at all, and your hands will feel like they just got out of paraffin.. I highly recommend it!
Being that summer is right around the corner (in my ever-optimistic mind), I've jumped on the bandwagon to be obsessed with all things nautical. I'm glad to see this preppy trend becoming more in the mainstream! I found these cute
braided sandals
at the Gap for $30, but they're currently having a 20% off sale online until the 19
th
- enter the code SPRING02 at checkout. These sandals come in black and light olive, but navy blue is my favorite. I wish they made them in red!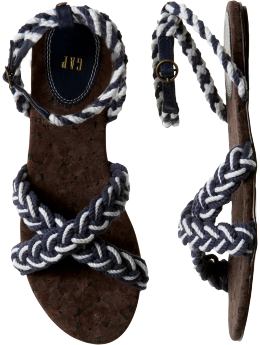 I tried them on in the store and they look really cute on - especially with a pair of cuffed jeans.
Now that I've found a nautical bikini (the Le French), nautical sandals, it's time for a nautical beach bag.. I've found these fun four options at
Espadrilles Etc
, a company that is based in Spain. These are the
Estay
bags in navy or red, at $135 each:
I love the big rope handles, and the espadrille bottom. Can't decide which color I like better.. These next ones are the
Tesoro
bag for $112 - they're definitely campy, but I think it's fun! Plus it combines
metallics
and the nautical theme:
My desperation for summer is really starting to show. I slipped and fell on the ice today in front of a travel agency - do you think that's a sign?